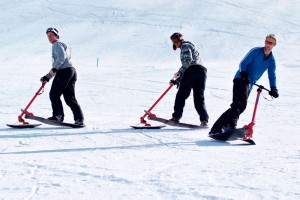 Renting for the winter holiday in La Plagne Montalbert.
If you choose Plagne Montalbert as your holiday destination, make sure that everything will be done for your own pleasure and wellness. Direct access to Paradiski, footpath and walks through the forest, surprising alternatives glides, amazing events, a fabulous patrimony…. What else ?
– Children activities :
In Plagne Montalbert, kids are very lucky : if they are not ready to go to ski school, they can go to the kindergarten, the nursery and the sledge area to discover how fun the snow is ! Whether you are young at heart or young in age sledging brings the family together for a whole lot of laughs.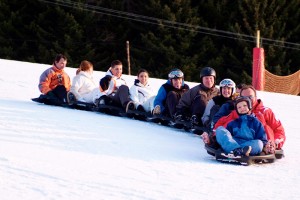 – Alternative snow sports :
At Plagne Montalbert, we specialise in coming up with inventive ways to get down a mountain… If you are looking for a challenge or just for pure laugh factor the contraptions we have designed are sure to be a success. Fun sliding and hilarity guaranteed.
– Footpaths :
Discover the local fauna or take a walk along the enchanted meadow path where local legends will be revealed and where you will meet a local artist's magical creations sculpted by chainsaw. And if it is the cultural heritage that sparks your interest don't miss testing the GPTO audio guide, a GPS system that tells all about Longefoy and Montalbert!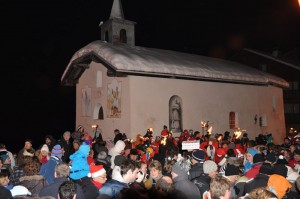 – Patrimony :
Every village has its heritage and Montalbert is no exception. Visits include the chapel near Longefoy, the church, the mill, the Superga chapel (which is a miniture replica of the Turin Superga) and Notre Dame des neiges in the heart of the village of Montgésin. Take the time to meet our locals who would be delighted to share their stories and crafts with you: Christian MICHEL, traditional costume and fabric seamster, Claude HAZEAUX is an expert in stained glass and Nicolas GOMBERT fires up his chainsaw to produce sculptures with ice or wood!